Puppy Go Home Bag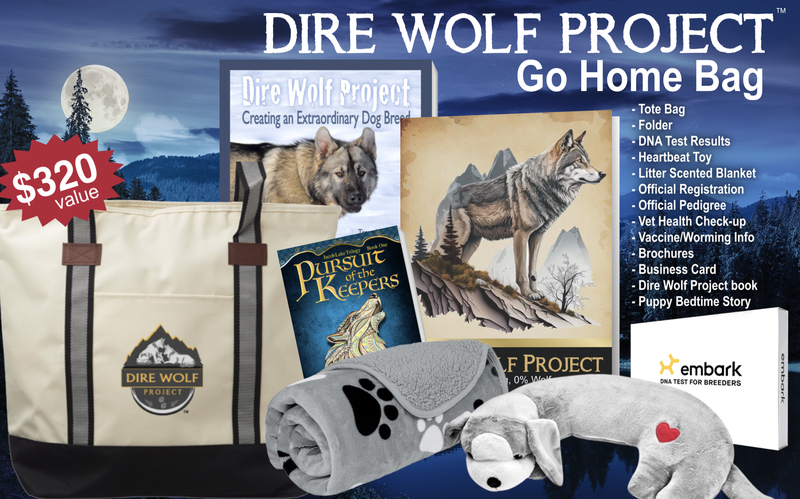 We want your puppy to transition as smoothly as possible.
That is why we created the Dire Wolf Project™ Puppy Go Home Bag!
Your puppy will have some of the comforts of home while it learns all about life in its new environment.
The following are items you will find in your puppy's Go Home Bag:
- Tote Bag
- Folder
- DNA Test Results
- Heartbeat Toy
- Litter Scented Blanket
- Official Registration
- Official Pedigree
- Vet Health Check-up
- Vaccine/Worming Info
- Brochures
- Business Card
- Dire Wolf Project book
- Puppy Bedtime Story
Every American Dirus puppy travels home with a tote full of happy memories from the quiet Ponderosa forests of eastern Washington state!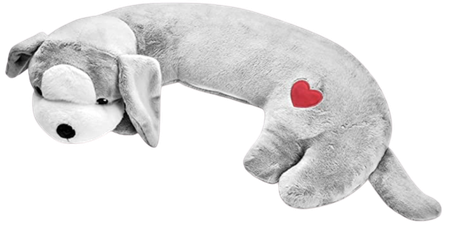 A snuggle heartbeat toy provides your new puppy with the sound of home. When your puppy lived at your Dire Wolf Project breeder's home, it was constantly surrounded by momma and its littermates. These sounds comforted your puppy, allowing it to rest secure it was not alone. Now, your little tail-wagging tyke has found itself alone for the first time in its life. This plush toy with a heartbeat can give puppy a sense of calm while it learns to sleep through the night in its crate. The snuggle heartbeat toy automatically turns off after 8 hours, so you never have to remember to turn it off and save the batteries. The C-shaped snuggle pup encourages your puppy to curl up just like it did with its siblings! The soft fleece material gives puppy a comfortable place to lay its head. The heartbeat device is safely stored behind a strong velcro enclosure. The two AAA batteries last for 24 hours of continuous use. When its time for your puppy to sleep for the night in its crate near your bed, the snuggle heartbeat puppy will be there to soothe any anxiety from being alone.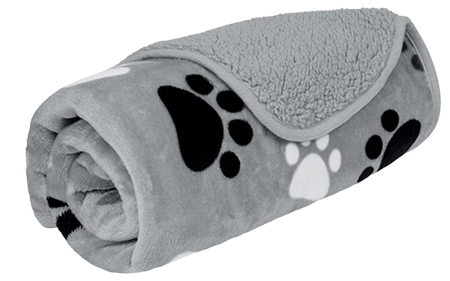 This waterproof fleece blanket isn't any ol' ordinary covering. NO!
This blanket is special because it has been played with by your puppy's littermates for two weeks prior to traveling home. All the comforting smells of your puppy's siblings permeate the soft fleece fabric so your puppy won't feel so lonely as it transitions to its new life. All the fond memories can flow back as your puppy drifts off to sleep remembering the good times growing up in the Ponderosa forests in eastern Washington state.
Some puppies will carry their blankets around with them, or choose to curl up next to their litter scented blanket.
This blanket is waterproof and machine washable. Perfect for containing any little accidents if they should occur.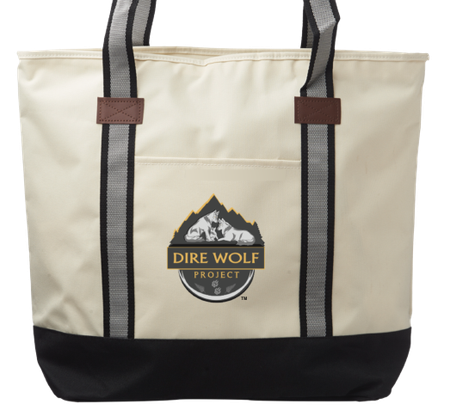 Always have a place to carry your puppy's things. This sturdy, durable canvas tote has plenty of room to store all of the items in your puppy's Go Home Bag. But you will use those items once your home, so this bag is also a way to store all of your puppy's new toys and accessories throughout the years. You can also use it to house dog training materials or items for a picnic with your puppy at the park.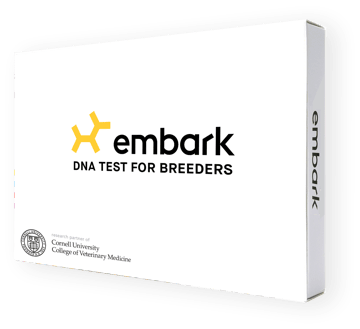 Every puppy born into the Dire Wolf Project is DNA tested by Embark Veterinary. The comprehensive DNA testing results may be delayed, but you can receive them the moment they return to the Dire Wolf Project. If you don't find a copy in your Puppy Go Home Bag, let your breeder know so that he/she can get a copy to you once it comes in.
Embark DNA tests are the most comprehensive canine DNA tests on the market. They provide important information on over 172 genetic health diseases, breed percentage (proof that your puppy is 100% dog), and identifies genetically inherited appearance traits. This test helps us in our work at the Dire Wolf Project, but the information can also be vital to share with your veterinarian.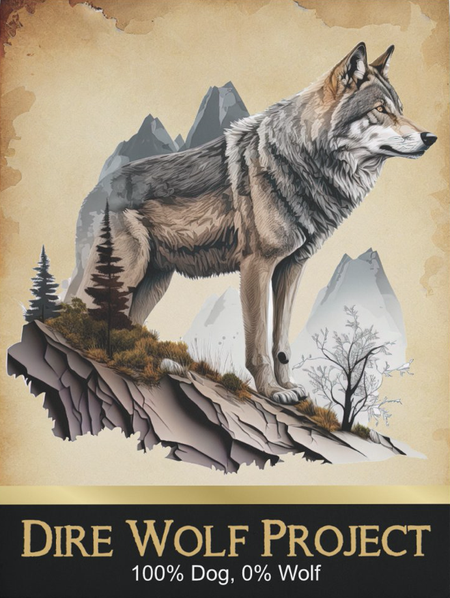 Each American Dirus puppy receives a puppy folder with the following information safely stored inside:
Certified Veterinarian Health Check-up
Worming/Vaccine information
Official International American Dirus Registry registration certificate
Official 4-generation Dire Wolf Project pedigree
Informational brochures on potty training, feeding, vitamin/mineral supplementation, etc.
DNA testing results (if they have arrived before your puppy travels home)
This folder is a good place to continue to store your puppy's health information, such as rabies certificate or further vaccine or periodic medication requirements, such as heart worm.
It also has Dire Wolf Project contact information should you need to reach out in the future.
We hope you enjoy your puppy's Go Home Bag!
Let us know what you think by sharing your thoughts on Google: