Health: Innocent Heart Murmur
By Jennifer Stoeckl, MAT - Dire Wolf Project CEO, May 21, 2020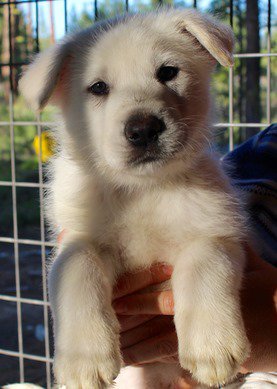 Cute puppy (Triton/Shennara)
A 9 week old puppy out of Triton/Shennara has been shown to have a faint innocent heart murmur by their vet. This slight delay in heart development has been tracked back to the giant Alaskan Malamute crossbreed brought into the breed in 2010 named Mount Rainier. All four of the other innocent heart murmurs that have been reported in our breed have been benign and all signs have gone away completely by 3 months of age. This family's vet has recommended they go to the university for further study to find out the degree, so I will report any findings when they come in. However, that being said, if anyone's puppy should show a faint heart murmur before age 3 months, we would like to know. We haven't seen these innocent heart murmurs in the breed for five years now, so it comes as a surprise that it has shown up again. Because of this, we now know that it is still held in the breed despite not breeding any known dogs with this condition.
Again, innocent heart murmurs are generally not cause for any concern and as long as the puppy is eating, sleeping, playing, and pottying normally there is no need to do anything more, except check back with your vet around 4 months of age to make sure the heart murmur has disappeared.
You can see all of the reported cases of possible genetic health issues within the breed here:
Dire Wolf Project Health
---
We would like to send you a free gift for spending some time with us at the Dire Wolf Project.
---
Jennifer Stoeckl is the co-founder of the Dire Wolf Project, founder of the DireWolf Guardians American Dirus Dog Training Program, and owner/operator of DireWolf Dogs of Vallecito. She lives in the beautiful inland northwest among the Ponderosa pine forests with her pack of American Dirus dogs.