Never Inbreed Ever?
By Jennifer Stoeckl, MAT - Dire Wolf Project CEO, July 9, 2018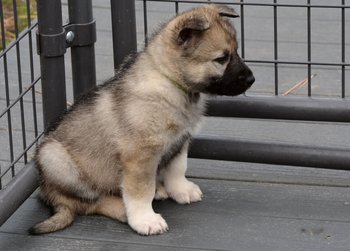 Recently, I was speaking with a group of dog breeders from around the world. After some conversation, I was able to learn that the new majority position in some breeding circles is that a dog breeder should never inbreed ever. We are talking about a position that believes in zero inbreeding... or a coefficient of inbreeding of zero percent. This is the first time I have heard a group of breeders adamantly proclaim this. Previous to this, I have heard that inbreeding should not exceed seven percent, which is already too high in their opinions.
Another idea that has come out of this conversation is that some believe that inbreeding of any measure has been falsely used over the years as a "way to solidify healthy traits and increase longevity." Apparently, the view now is that inbreeding cannot solidify anything, only harm dogs who have inbreeding percentages by lowering their autoimmune defenses thereby increasing potential health issues and the like.
In other words, inbreeding to any degree is now being seen as a mortal enemy for our dogs.
Since the Dire Wolf Project is shifting now toward breeding within our own stock after these most recent crossbreeds, we will be working with some degree of inbreeding. I wanted to post here my thoughts on inbreeding for your review.
Despite the fact that some breeders firmly believe it goes against current genetic research, I disagree with the premise that no inbreeding ever is even feasible over the long term. I also disagree with the statement that inbreeding doesn't solidify health and longevity. Excessive inbreeding [where health issues do begin to appear from extremely low genetic diversity, also called inbreeding depression] is much different than inbreeding in general.
A few hundred years ago during the Victorian age inbreeding was seen as the only way to solidify health, temperament, and conformation traits. It is interesting that the pendulum as now swung to the very opposite end where inbreeding is the enemy of all dog breeding and no one should ever practice it at any time.
I am of the mind that one extreme or the other is ultimately unhealthy. I will be watching carefully as breeders begin to administer the no-inbreeding-ever practice. Let's see where it takes our purebred dogs, if it ever fully catches on in the open purebred dog scene. It might be a while yet, though, if it does.
That being said, genetic science actually reveals that when one identical trait is inherited from the father and the mother inbreeding occurs. The more traits that are identical from both the mother and the father, the more inbreeding. Theoretically, a dog could show the same identically inherited traits as another dog, even though they are completely unrelated. Therefore, a degree of inbreeding can occur despite the non-relationship of the parents. To be sure, the likelihood that a high number of identical traits would exist between unrelated dogs is quite low, but certainly a low level of inbreeding could be seen in completely unrelated dogs if some of the inherited traits were identical.
I know this to be true because I recently bred two completely unrelated dogs... one is an AKC purebred Alaskan Malamute where both parents are known and registered through AKC; the other is an American Alsatian dog of known origin for over thirty years. Their ancestries were completely separated. That all being said... I tested the offspring of this match through Embark with a three percent genetic COI.
Furthermore, I have a statement from the genetic lab stating that inbreeding percentage can and does occur when identical traits are inherited from both the mother and the father. Doubling traits can also be called solidifying traits. Interesting connection there.
Science is clear on this. The simple truth of the matter is that identically inherited traits from both the mother and father will produce inbreeding, no matter the degree of relation. In other words, the degree of relationship can shift back and forth between dogs, but the same number of identically inherited traits will produce the same genetic COI every time. It's mathematical. That is why four puppies from the same parents can have completely different genetic COI. The number of identical traits is different, therefore, the COI is different. This gene from the mother matches this gene from the father... bam... inbreeding. Genetic DNA does not rely on the relationship of the mother and father to find that out.
In my own breeding stock, I plan to inbreed as minimally as possible at this beginning stage, in order to have as many diverse lines as possible for as long as possible. But, inevitably [in my calculations three generations] these lines will merge significantly. Inbreeding compounds itself over time unless there is a significant increase in population size. With Shawna's help, perhaps we can keep more lines than just Lois and myself, but we shall see. When our dogs begin to breed true [breed consistently in health, temperament and conformation] we will again assess where the breed is at and whether we need to introduce new genetic material again in another crossbreed.
---
We would like to send you a free gift for spending some time with us at the Dire Wolf Project.
---
Jennifer Stoeckl is the co-founder of the Dire Wolf Project, founder of the DireWolf Guardians American Dirus Dog Training Program, and owner/operator of DireWolf Dogs of Vallecito. She lives in the beautiful inland northwest among the Ponderosa pine forests with her pack of American Dirus dogs.