Training Your Own Service Dog for Your Disabilities
By Jo Maldonado, Founder/HeadMaster Gryphon's Claw School of Practical Magic, Feb. 8, 2022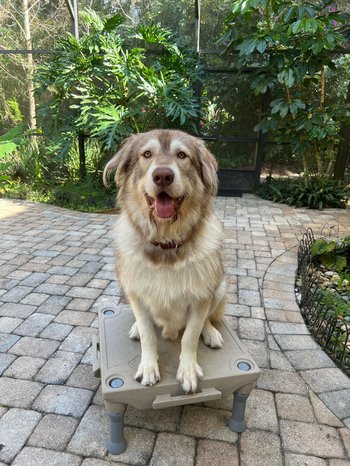 Baruh Sit/Stay on a Platform
Training your own service dog when you are physically or mentally compromised can be challenging. Can this be done? Yes.
CONCEPTS IN SELF-TRAINING
I found myself realizing that I have inadvertently constructed "concepts' that guide me while training my service dogs. My number one concept in self training is patience with myself, and with my dog. Then the list continues:
1) Know what tasks you need your dog to perform
2) How to train these tasks
3) Have no looming deadline stressfully hovering over your head. If you need your dog to be trained in a hurry, get a trainer
4) Make sure your dog is up to doing the tasks you need
DON'T HOLD OFF FROM ASKING FOR HELP
If you have disabilities like flares from RA, lupus, or other mobility issues, like I have, you never know when you will be hit with symptoms and bed ridden. Help becomes a key word in your vocabulary. If your flares continue for an indefinite period of time, if you are incapacitated for an indefinite period of time, or if your medical situation progresses, ask for help.
Help comes in many ways. Friends with service dogs can offer suggestions, tons of information lies at your fingertips on YouTube or other social venues and so many books and articles exist. Even if you are bed ridden, your dog will bring you joy, and you can still train in bed.
TRAINING SERVICE DOG #1
My first service dog, Koda, a Great Bernese, was a little over 2 years old when she began tasking without training after my strokes. She walked next to my leg and assisted me with my balance until I got to a chair. If I would fall, she would come over and stand by me so I could lean on her to get up. If my anxiety rose as well as my blood pressure, she would stand in front of me and block me from moving until all passed. Wonderful self-appointed tasks, all I had to do was put a name to it, and mark it with a treat. A trainer friend of mine helped me with learning how to mark. I continued to train her for other tasks but I knew my time with her would be limited, as she herself had medical challenges. She served me for 4 years, and to this day doesn't have a second thought to help me. I was fortunate to be able to tap into my trainer friends' knowledge. Between learning from them and watching YouTube and Instagram posts on how to train your service dog, I was able to successfully train Koda.
SERVICE DOG #2
My second dog, Enoch, an American Alsatian dog, was to be a replacement for Koda. Sadly, we discovered that Enoch was medically compromised at the early age of 10 weeks. Rather than washing her, I continued to train her throughout her 4 surgeries as we both loved training together. Unfortunately, at about a year and a half she developed severe anxiety on outings. Between that and her compromised health, she was no longer able to be my service dog. I had the assistance of a trainer friend from my circle to help in teaching us how to deal with her outside anxiety. Inside our home she was, and still is impeccable. Her tasks that I trained at home were alerts for my anxiety and blood pressure, picking up and bringing things I dropped, helping me stand if I fall or am on the ground, steadying my pace if I am wobbly, reading my facial features for alerts, calming me and licking my face through asthma attacks, carrying my laundry, putting things away into baskets and more carrying.
TRAINING MY FIRST AMERICAN ALSATIAN DOG
My training style with Enoch was different than with Koda. I had more experience, or enough to apply the basics, but Enoch was a puppy of a different breed so my communication and training had to be different. The key factor was awareness of her responses to my "asking". Initially, two trainer friends of mine began training her as a young pup. I watched how they handled her, and quickly realized that their methods of training typically applied to shepherds or goldens and were ill-suited for her breed. In fact, it did more harm than good. The American Alsatian dog is a totally different breed, one that "thinks" unlike other "breeds". Correcting, forcing, and expecting this breed to perform and learn in the manner and speed that the other breeds did, did not work for Enoch.
IN-HOME SERVICE DOG
I continued to train Enoch on my own, until she was a year and half, when she developed her environmental phobias. Another trainer friend of mine who is familiar with these behaviors, studied this breed, knew Enoch, and showed us how to help ease her anxiety and stress in public to noises. Now a year off service duty, Enoch goes for walks in the park and has no pressure to preform and task. Her anxiety has improved, but she still panics when she hears a truck or a loud engine. I continue to train her to help me at home, because she enjoys it, and I enjoy watching her be happy.
SERVICE DOG #3
Baruh, another American Alsatian dog, one year old, is now my third service dog I am training. My training strategy with him did an about face. When he came to me, I was in full force flares, and suffering from severe vestibular issues. Simple tasks like putting dishes away were not possible let alone walking a dog, or now training a dog. My service dog training friends moved away.
WHEN IT IS NOT POSSIBLE TO TRAIN BECAUSE OF YOUR CHALLENGES
I remember having a conversation with my daughter who said "If you're really serious about this dog being your service dog, then you have to find a good trainer and let them give him a start". I did a lot of research and found a great service dog training facility. They were able to help me do what I could not do. I am most grateful. Walking, standing front, going backwards and familiarizing with strange facilities and other dogs and people were part of his training. Covid got in the way as my trainer and her family became sick, and eventually our trainer left the facility. By then we had accomplished a lot of on-site training, CGC certification and public access work. Eventually most of my symptoms improved and I continued to train him.
HAVING FUN WITH TRAINING
There are more challenges for those of us with disabilities that love training our service dogs, and love our service dogs. Thousands of hours and days are invested into training. I knew that given my conditions I would not be able to do that with my third dog. My dogs have always brought light into my days and the freedom and courage to go forward in life. Not having a service dog is just not an option for me, and I do have the awareness to acknowledge when I can, and cannot train on my own. Lucky for me, Baruh is a very easy student, and by not putting deadlines on his task training, allowing him to learn on his time without pressure, and making our adventures out in public fun and not regimented training events, we are both becoming closer and happier working together.
---
Jo Maldonado is the Founder/HeadMaster Gryphons' Claw The School of Practical Magic; Gryphons' Claw The League of the Extraordinarily Gifted; Professor of Animal Communication Studies, Human to Animal Body Language; Meditation Studies, Intuitive Development, Energy Usage & Effects Educational Background : Graduate of RavenHill Academy & LaSalle College; additional studies & degrees in Hypnosis, Shamanism, Mediumship, Canine Behavior; Remote Viewing; Aromatherapy, Reiki Master; certified QiGong Instructor; Instructor of Animal Communication at Rollins College; founder Centers for Animal Therapies, C.A.T.; private readings for animals and people available. https://www.gryphonsclawschoolofmagic.com