We're Starting to Grow!
By Jay Stoeckl, MAT, DireWolf Publishing Editor-in-Chief, March 21, 2022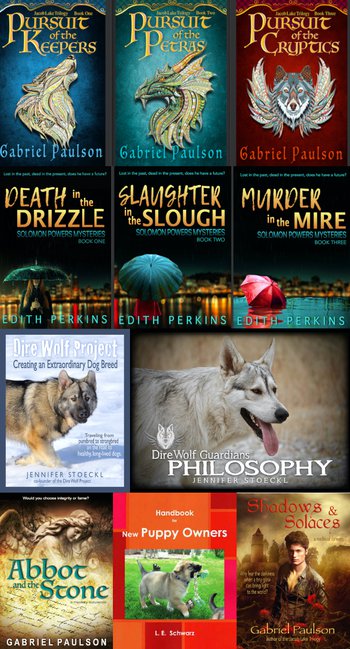 As a boy, I could hardly stand reading. I was required to do a number of book reports every year, but both my parents and my teachers were hard-pressed to get me to so much as finish a book. The reason for my literary delinquency had to do with my having a very high standard for storytelling. As a child my favorite books were Brighty of the Grand Canyon, Cricket in Times Square, and Tucker's Countryside. In my teen years I loved everything J. R. R. Tolkien as well as the C. S. Lewis Narnia series. I loved these books because they engaged me from page one and kept my interest throughout the books.
However, these were only a few of the books that I finished. Most of the time I picked up a book, meandered through the first chapter, then put it down never to pick it up again. If the story had no strong hook, interesting plot, characters, and good rhythmic writing that was clear and not confusing, I found no enjoyment in them. Both the book title and its accompanying author would end up on the mental incinerator.
Now a number of you may be asking the question, "how in the world would a man not naturally drawn to reading be in the business of heading up a publishing company?" The answer is simple. Because it took such a quality level of writing to hook my interest, I still hold to that high standard whenever I consider books for the company. When reviewers state on Amazon that they could not put one of our books down from first to last page, we know we did something right.
Our published works are of the same high standard I had from the time I was a schoolboy. If I'm not engaged in the story within the first chapter (and even better, in the first page), then it is not worth publication in DireWolf Publishing. Furthermore, I don't care much for disturbing images, harsh language, or R-rated sexual content and so we almost never include these elements unless a hint of them is needed for plausibility. Our stories have to be universally appealing rather than satisfy a niche set of readers.
And speaking of plausibility—when reading a book or watching a movie, the one thing I cannot stand more than anything are the implausible events. In a recent suspense thriller that I saw, a young mother is running for her life because the evil predator is in the house. Yet she still goes back into the house to retrieve her purse. Anyone scared for their life or for their children would never do such a thing. Such "implausibles" kill any story even if it happens just once in a story. Implausibles occur way too often in both books and movies.
Everything in our novels must be plausible, even when magic and fantasy are present. If you, as a reader, see our protagonist making plausible decisions throughout, you find yourself not only rooting for that character, you begin imagining yourself in their shoes. Once again, we must be doing something right.
In the coming two years, successful author Gabriel Paulson (Jacob Lake Trilogy) has a number of books on the horizon including one stand alone novel, Abbot and the Stone, and a nine-part epic adventure entitled Shadows and Solaces. New author Edith Perkins will be putting together a three-part crime/suspense mystery entitled Solomon Powers Mysteries with a refreshing concept and fun premise throughout. Release dates on these to be later announced. We're also planning audio versions of many of these titles as resources come available. Lastly, Dire Wolf Project co-founder Jennifer Stoeckl is planning an entire email, subscription based, puppy training series that will educate new puppy owners on a daily basis so that their DireWolf Dog will reach the highest potential of becoming the greatest companion dog ever.
We're starting to grow. It is both exciting and scary to think about. The more we can Fill the Emptiness with a wolfy dog who snuggles and engage the two of you in page-turning adventure, the better will be the experience of being a proud DireWolf Dog owner. We hope you will take the journey with us.
---
Jay Stoeckl is the Editor-in-Chief for DireWolf Publishing. He has written several books, including two graphic novels entitled, "Saint Francis and Brother Duck" and "Saint Nicholas and the Mouse of Myra". He is married to Dire Wolf Project co-founder, Jennifer Stoeckl, and lives in the inland northwest with his pack of DireWolf Dogs and his favorite kitty, Hobbes.